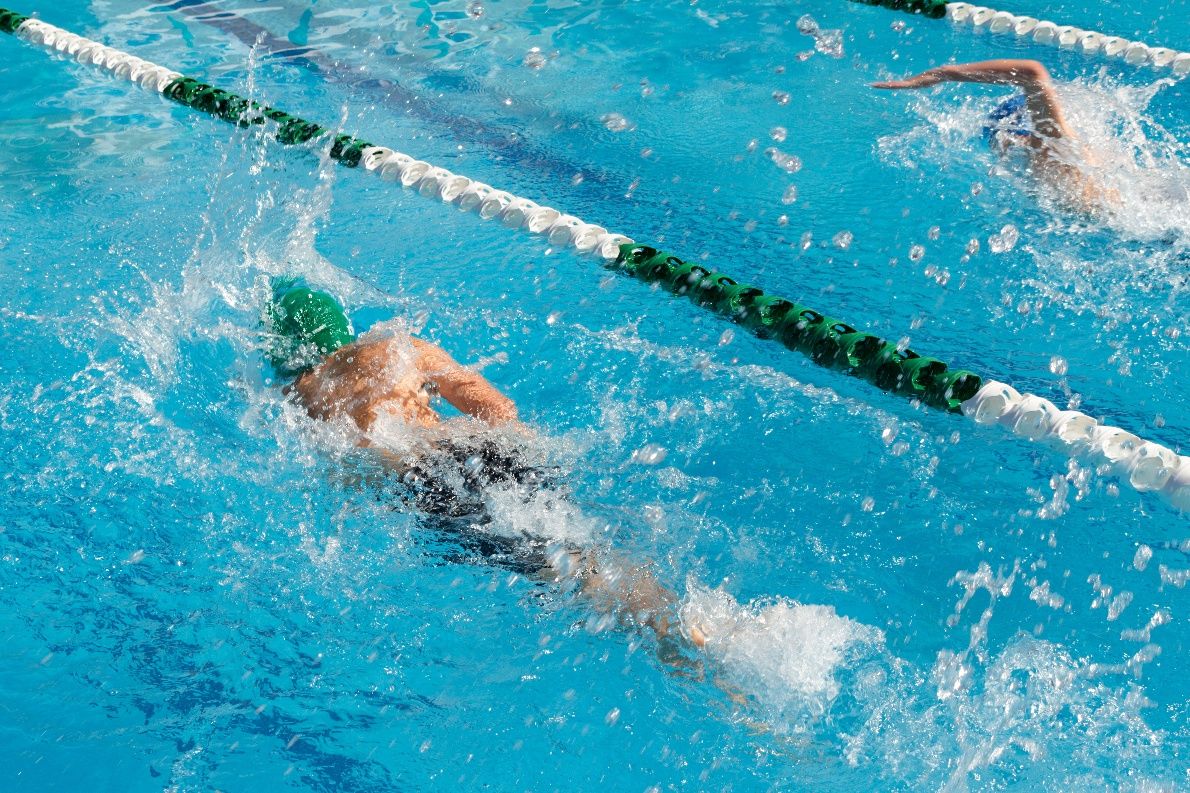 Subscribe
Leisure Pools vs. River Pools: Which Fiberglass Pool Manufacturer is Best For You?
Fiberglass Pool Information | Pool Manufacturing Process | Fiberglass Pool Manufacturers | Swimming Pool FAQs
Shopping around for an inground pool? If you've found this article, you're most likely well into your research process on several of the nation's top fiberglass pool manufacturers. At this point, you're probably looking for honest answers to one simple, but essential question: which of these manufacturers can produce the best pool for your backyard?
We've put together a series of articles to help you choose a pool manufacturer with confidence, based on a set of objective, factual details allowing you to compare each manufacturer fairly and honestly, to help you choose which manufacturer you'll work with on your future pool project… and why.
River Pools prides itself on making top-quality fiberglass pools, but we know we're not the only manufacturer to make this claim. Our competitors often claim to be the best, too. This article should help you decide, on the merits, whether you should go with River Pools, Leisure Pools, another fiberglass pool manufacturer, or even another type of pool altogether, such as a concrete or vinyl liner pool.
This article will compare River Pools to Leisure Pools with publicly-available details from each of our websites. You'll be able to assess our respective manufacturing processes, our product and/or model lineups, our installation processes, our warranty coverages, our price ranges, and other critical considerations you should evaluate before signing any contracts and welcoming any contractors into your yard.
We hope to provide you with the transparency and honesty you deserve to make an educated decision. Buying an inground pool is one of the biggest decisions you can make as a homeowner, and we want you to feel comfortable and confident with your final choice, no matter what you choose.
Let's get into it...
A quick overview: Leisure Pools vs. River Pools
We originally covered the key details of each major fiberglass pool manufacturer in one big industry review article back in 2017. We also put together an updated and expanded manufacturer review article this year. These key details are listed below, with some additional depth and information...
Leisure Pools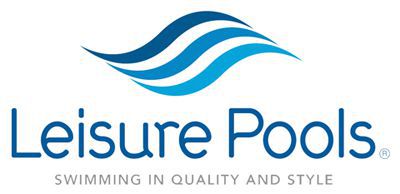 Founded (years in service): 2000 (21 years)
Headquarters: Knoxville, TN
U.S. service range: 48+ U.S. states ("we deliver everywhere")
Total authorized U.S. installers: 500+
Smallest standalone FG pool model: 6' x 10' (Fiji Plunge)
Largest standalone FG pool model: 16' x 40' (various)
Price range (standard FG install): $55,000 - $60,000
Total number of FG pool models: 66
FG pools sold/installed annually (U.S.): 3,000+
Leisure Pools is one of two major North American fiberglass pool manufacturers to originate in Australia -- the other being South Carolina-based Barrier Reef Pools.
Leisure is a much larger company than Barrier Reef, and their respective websites make this clear -- Leisure's site is a polished piece of marketing kit that emphasizes the convenience of its pool-buying process far more than any other manufacturer we've examined.
River Pools

Founded (years in service): 2001 (20 years)
Headquarters: Warsaw, VA
U.S. service range: 35 U.S. states
Total certified U.S. installers / franchisees: 96
Smallest standalone FG pool model: 10' x 25' (M25)
Largest standalone FG pool model: 16' 40' (various)
Price range (standard FG install): $40,000 - $85,000
Total number of FG pool models: 19
FG pools sold/installed annually (U.S.): 1,800
River Pools was originally a dealer and installer of CPC (now one of Latham Pools' many subsidiary brands) fiberglass pools. We now manufacture our own fiberglass pools in a state-of-the-art facility in Fortville, Indiana, which provides an ideally central location from which we supply and maintain a rapidly-growing network of authorized dealers and installers across the U.S.
We're the only fiberglass pool manufacturer that started as pool installers, so we take great pride in our real-world on-the-ground knowledge of the pool building process. We've developed industry-leading installation standards, known as the River Pools Way, which we teach to every new installer that joins our network.
We strongly believe our commitment to customer education is what's made us the most popular fiberglass pool website in the world. Each year, millions of prospective pool buyers find the River Pools website while looking for useful and unbiased information about the manufacturing, installation, and maintenance process for pools of all types.
Manufacturing processes
All fiberglass pools are not made equal. This isn't to say that one manufacturer is undisputedly better than any others.
When manufactured properly, any fiberglass pool shell should provide decades of enjoyable, low-maintenance fun for people of all ages. But there are certain differences from company to company, and occasionally, even from factory to factory. Here's how Leisure and River Pools each manufacture their pool shells...
Leisure Pools manufacturing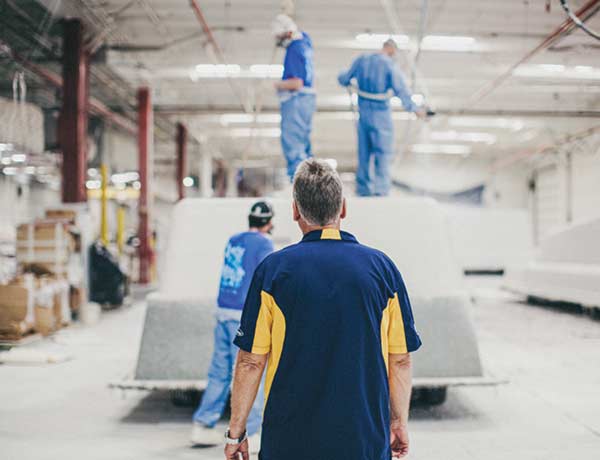 Leisure Pools agrees with us that "not all pools are created equal" -- it's the second line on their manufacturing landing page. The first line is "Seriously, this is rocket science," which seems slightly over the top to us, since we're not about to start making rockets for Elon Musk or anything like that.
Leisure's manufacturing page further states its pool shells are made with a trademarked "Composite Armour" material reinforced with DuPont Kevlar, Basalt, and Carbon Fiber.
Composite Armour (you can tell it's not a U.S.-based company by the extra U in Armor) is supposedly crafted by embedding these three materials into vinyl ester resin fiberglass, with benches and steps further reinforced by additional amounts of Kevlar, basalt, and carbon fiber.
Leisure Pools outlines a step-by-step manufacturing process that proceeds according to these details on its landing page:
Construction begins with a conceptual drawing of a new shell model

Master carpenters create a full-size wooden pool model

A negative mold is cast from the wooden model

Laminators reference benchmarked standards to construct a fiberglass pool shell

Quality control includes batch testing of raw materials and thickness inspections on every manufactured shell

Once the shell is separated from the mold and inspected, it's ready to be delivered to your home
This is a more thorough step-by-step review of the manufacturing process than is offered by many manufacturers, but we will note there's more focus placed on the design and development of new models than on the actual process of manufacturing pool shells.
Leisure Pools doesn't explicitly state how it combines its various materials together in a step-by-step process, which we do on our manufacturing landing page, as you'll see below. There may not be much actual Kevlar, or basalt, or carbon fiber, used in the manufacture of a Leisure Pools fiberglass shell.
River Pools manufacturing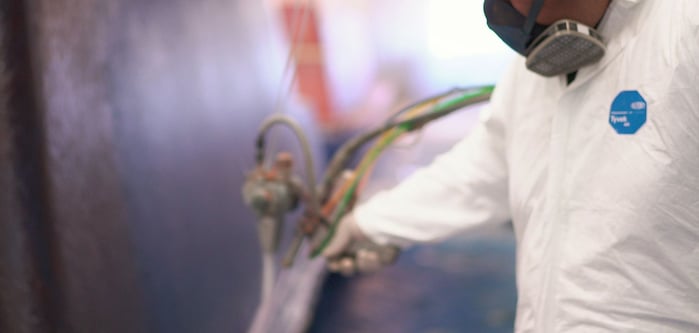 River Pools covers its manufacturing process extensively throughout its website. We have a dedicated manufacturing overview page to cover each step of our fiberglass pool production process in detail.
We use a six-layer manufacturing process, which includes the following steps, which you can review in further detail on dedicated pages for each individual step:
After completing these six steps, we allow your pool shell to cure before removing it from its mold and preparing it for delivery to your home!
Fiberglass pool models, shapes, and sizes
Fiberglass pool manufacturers typically offer a wide range of shapes and sizes to choose from. Some offer more than others. But when it comes time to make a decision, there's only one shape and size that matters: the one you like best for your backyard.
Do either Leisure Pools or River Pools have the perfect pool model for you? Let's take a quick look at the model lineups for each manufacturer...
Leisure Pools models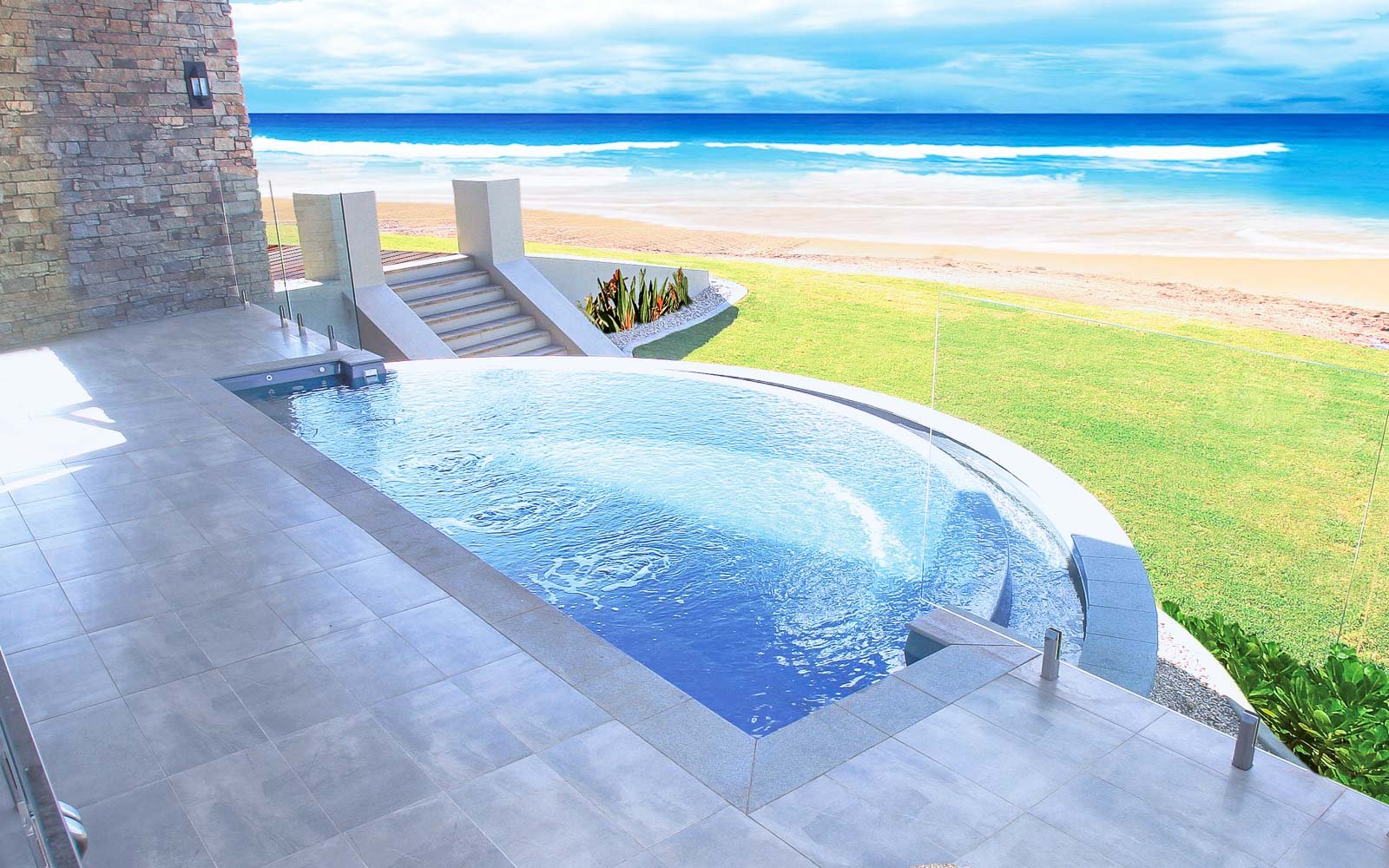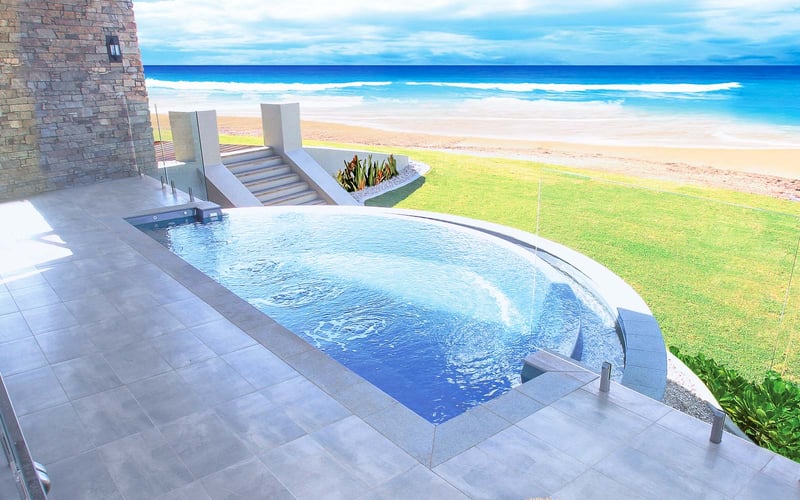 Smallest standalone FG pool model: 6' x 10' (Fiji Plunge)
Largest standalone FG pool model: 16' x 40' (various)
Total distinct pool models: 66
We've already written an extensive deep dive article on Leisure Pools, covering the company's model lineup in great detail.
Outside of San Juan Pools, no other manufacturer offers such a wide range of fiberglass pool sizes and shapes -- over five dozen distinct choices are on offer across 27 named models in rectangular, freeform, and one other style (the half-moon Horizon model).
Leisure Pools has quite a few maxed-out (40-foot-long) designs, but it also offers a good number of smaller pools. It's one of the few full-size fiberglass pool manufacturers to specifically highlight its plunge pools -- there are two models with "Plunge" in their names on Leisure's website.
River Pools models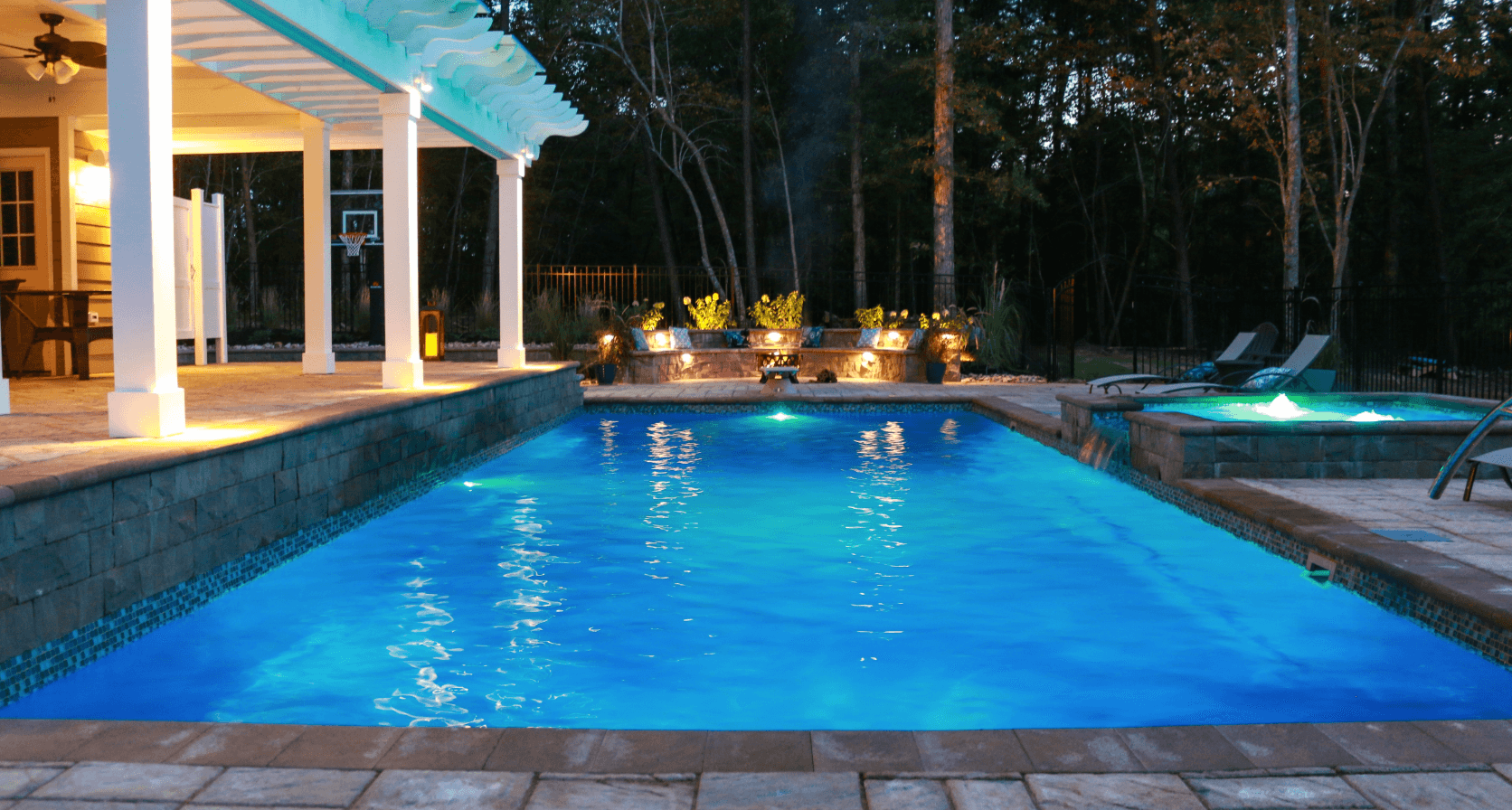 Smallest standalone FG pool model: 10' x 25' (M25)
Largest standalone FG pool model: 16' x 40' (various)
Total number of FG pool models: 19
River Pools has a smaller range of unique pool models.
We focus our manufacturing efforts on broadly accessible and appealing full-size rectangular and freeform pools, which many families and parties of all sizes can enjoy. As a result, our smallest pool is a bit larger than the smallest model offered by some other fiberglass pool manufacturers.
River Pools currently manufactures 19 distinct pool models in rectangular, Roman end, and freeform configurations. Our smallest model, the 10-by-25-foot M25, has about 23% the volume of our largest model, the 16-by-40-foot T40, which has an 8-foot-6-inch deep end. This makes our T40 about half a foot (six inches) deeper than most other fiberglass pool models on the market.
Fiberglass pool options, add-ons, and accessories
Most pool buyers understand that a pool shell is only the first step towards creating the backyard oasis of their dreams. A truly complete pool installation often includes a range of options and accessories, from custom gelcoat colors to water features, spas and tanning ledges to retaining walls and patio pavers.
Here's what you might get from Leisure Pools or River Pools in terms of add-ons and options beyond the pool shell itself...
Leisure Pools options and add-ons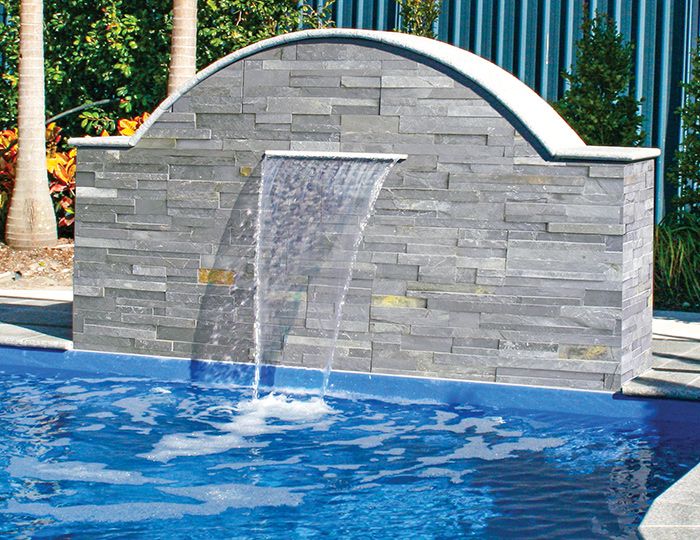 Leisure Pools offers a fairly standard array of spas and tanning ledges, with three options available for each add-on.
There are two rectangular spas -- one with molded bench seating that somewhat resemble the racing chairs you'd see in high-end sports cars -- and one circular spa. Leisure also offers three fairly similar tanning ledges, each with a slight variation in width and/or edge shape.
Leisure Pools is quite good at highlighting the other options and add-ons it can provide with any custom fiberglass pool installation, with a dedicated options page referencing specific brands and models for waterfalls, pool heaters, salt generators, pumps, and other things prospective pool owners might want with their new pools.
River Pools options and add-ons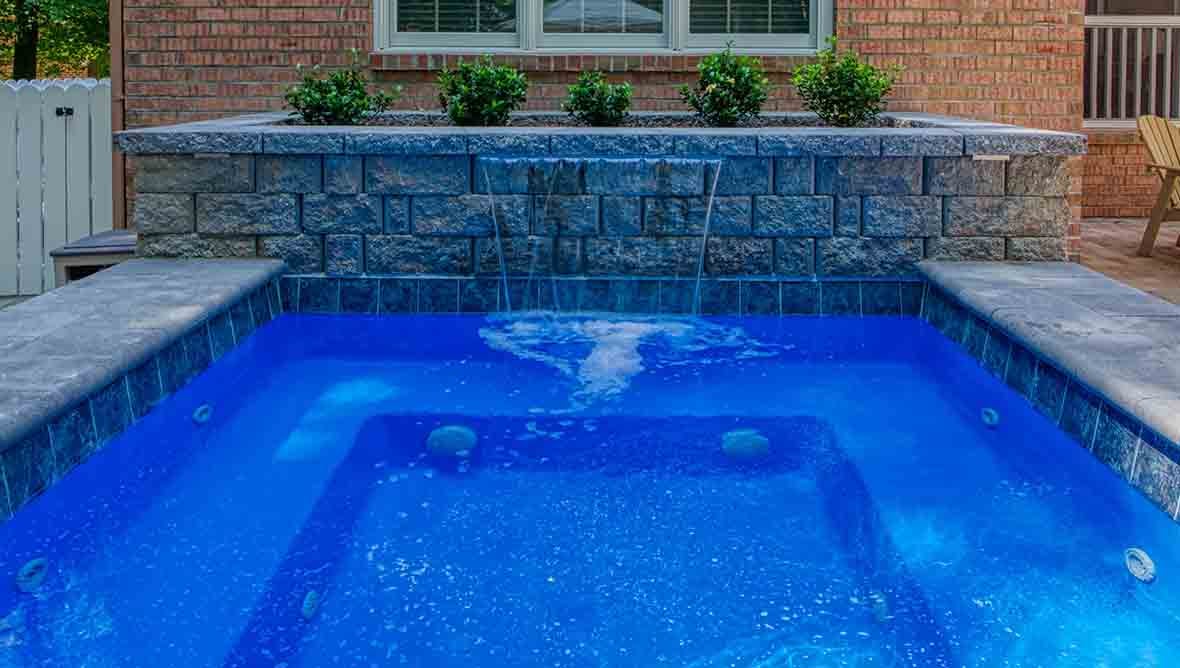 River Pools offers a fairly straightforward selection of spas and tanning ledges as well: we provide a round and a square spa add-on, and two sizes of tanning ledges -- a smaller square ledge, and a larger rectangular ledge.
We believe we've made it easier to pick out gelcoat colors and smaller add-ons than many other manufacturers, particularly since launching our online Build and Price tool, which you'll see below.
River Pools fiberglass shells are available in eight colors (three are standard, five are premium options for a small extra cost).
We also have a dedicated options and accessories page on our website, and a dedicated patio and coping options page Both of these pages cover all the popular pool add-ons and their expected price ranges, so you can better understand what's available and what it might cost to include in your pool project.
You can even customize a pool project with any model we offer and any options and accessories you might want, to get a general idea of what the entire project might cost you. You can do this through our Build and Price tool, which you can use to get a price range on any custom project in just a few clicks, before talking to any dealers or installers. Click the button below to check it out!
Fiberglass pool installation methods
The best fiberglass pool shell in the world can still be a nightmare if it's not installed correctly. Choosing a reputable pool builder (also known as a pool installer or pool contractor) is every bit as important as choosing a manufacturer.
So, what can we learn about the respective installation processes of pool builders authorized by Leisure Pools and/or River Pools to install our fiberglass pool shells?
Leisure Pools installation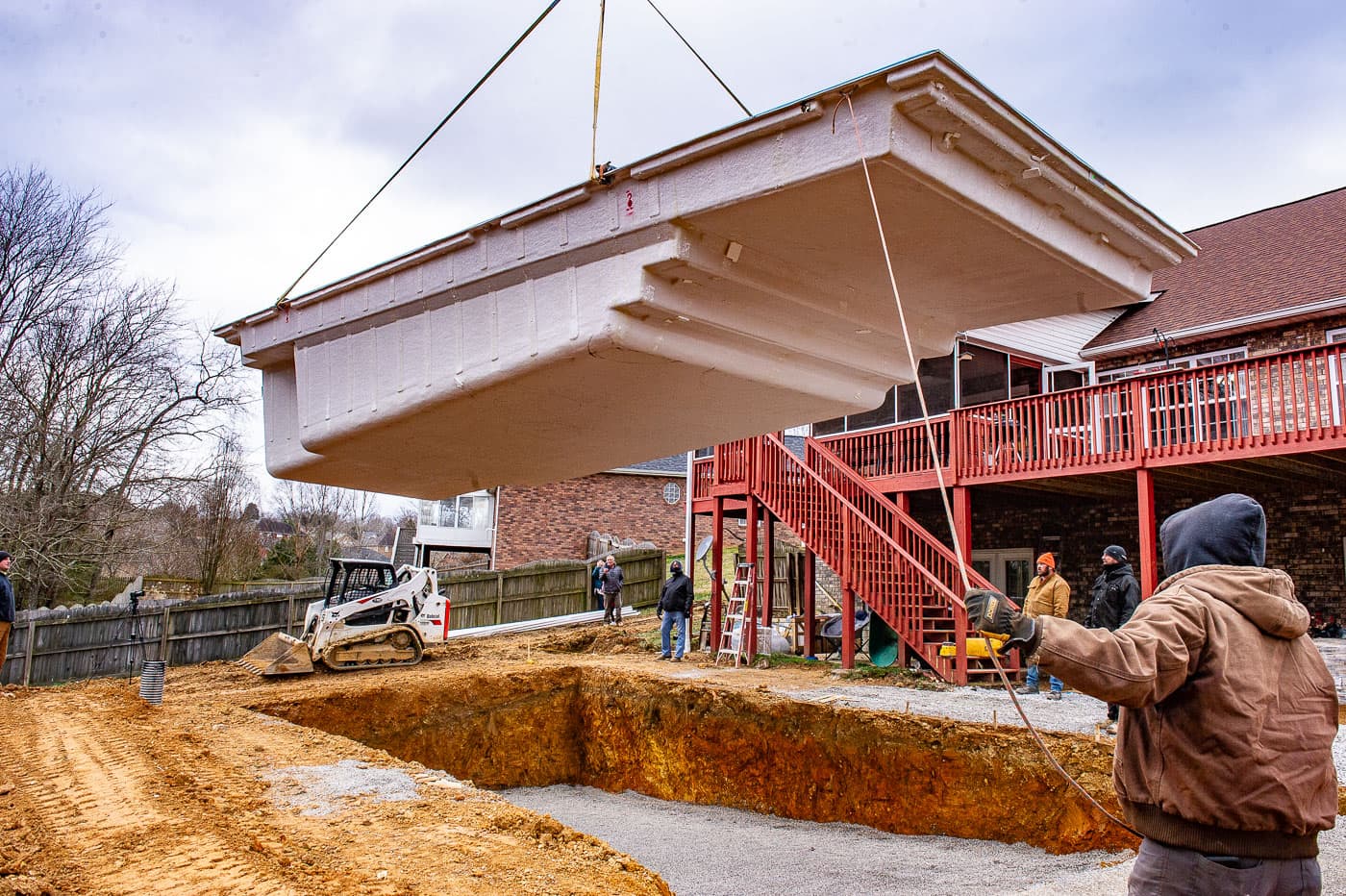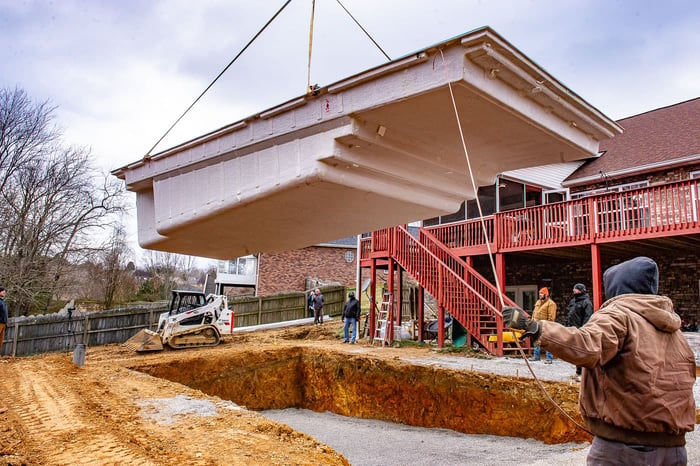 Leisure Pools touts its ability to "deliver anywhere," which heavily implies its availability in all 48 of the lower contiguous 48 U.S. states It also boasts a network of over 500 licensed installers.
This number appears to be a global total, which may include installers in Europe, Australia, Asia, and Africa. It's probably safe to say there are several hundred Leisure Pools installers in the U.S., but we can't say for sure quite how many there are in the company's 500-plus global network.
Leisure's installation process is covered in fairly comprehensive detail on its website, which we appreciate as pool builders ourselves. Our processes are fairly similar, and we expect this level of detail would imply some degree of in-depth hands-on training for any new installer added to the Leisure Pools network.
However, we always encourage pool buyers like you to thoroughly vet and verify any pool builder you might hire. Ask lots of questions about methods, systems, technologies, and previous customer experiences. You can use our Ultimate Pool Builder Vetting Checklist as a starting point for interviewing your prospective Leisure Pools installer.
River Pools installation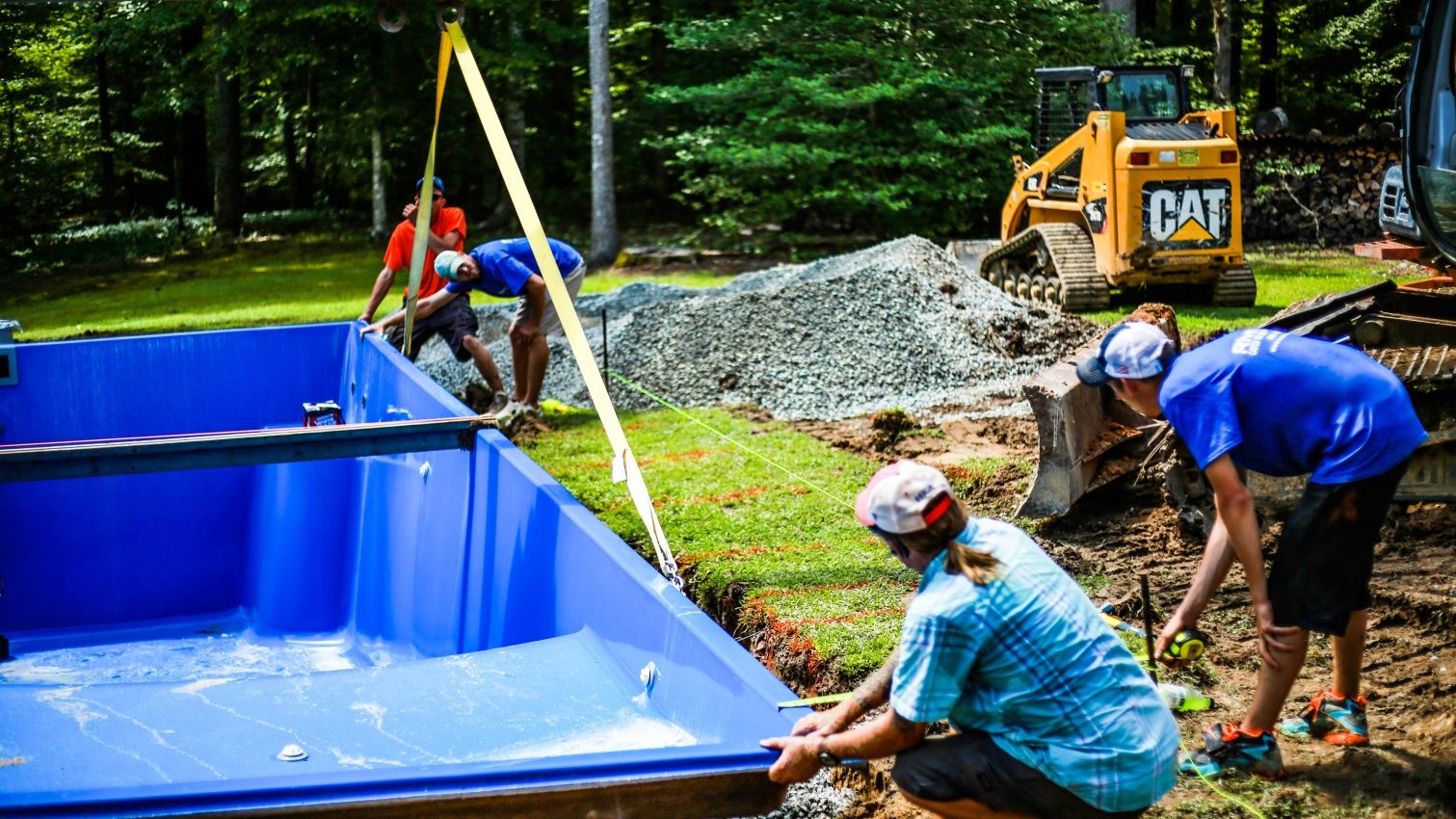 River Pools is the only major fiberglass pool manufacturer to get its start as a fiberglass pool installation company. As you might expect from this background, we take our installation process quite seriously. That's why we take every new authorized River Pools dealer and installer through a comprehensive training program we call The River Pools Way.
You can review every step of our installation process at the link in the last paragraph, but if you'd like a quick review, here are the key steps:
We only use crushed or chipped stone backfill.

All pool plumbing uses Schedule 40 PVC hard pipe.

We secure plumbing/pipes to the pool shell with a strap system.

We fuse the fiberglass pool shell to the surrounding patio with a 12-inch composite "River Rod" to prevent shifting or settlement after installation.

Pool plumbing is encased in the stone backfill to further prevent movement.

A 12-inch concrete bond beam surrounds the entire pool perimeter to lock everything in place and maintain long-term integrity.

A sump pipe is included in every installation to allow for ground water drainage.
Fiberglass pool warranties
All major fiberglass pool manufacturers back their pool shells with warranties. Some warranties are more comprehensive than others. A longer warranty term may not necessarily be better for you -- make sure you understand the terms and conditions of any warranty provided by any manufacturer!
Leisure Pools warranties
Leisure Pools backs its fiberglass pool shells with a lifetime structural warranty and a limited lifetime structural osmosis warranty.
The exact details of these warranties are not easily viewable on Leisure Pools' website. However, Leisure Pools does pledge to allow one-time warranty transferability within five years of your purchase.
Keep in mind that a structural osmosis warranty is not the same thing as a surface warranty -- covering your fiberglass pool shell against osmosis may not include coverage against blisters, cracking, or other forms of surface damage.
Leisure Pools makes no mention as to whether or not its licensed installers will back their work with any sort of workmanship warranty. We recommend asking a Leisure Pools representative to provide you with the full text of its warranties, including any (if any) workmanship warranties offered by your local licensed installer.
River Pools warranties
River Pools offers a limited lifetime structural warranty, and a 15-year surface gelcoat finish warranty, on all pool shells we manufacture. These manufacturing warranties may be transferred once -- if you buy a home owned by the original purchaser of a River Pools fiberglass pool, you'll still be eligible for warranty coverage in the event of a structural failure covered by our warranty.
We also offer a three-year warranty on all operating pool equipment installed with your pool shell, such as LED lighting, pumps and filter systems, water features, salt chlorinators, and other major electrical components.
River Pools authorized installers back their work with a five-year limited workmanship warranty (three years of full warranty and two years of partial warranty), which covers pool buyers in the event the shell shifts, the plumbing leaks, or the shell separates from the patio. These are major installation defects that should never happen if The River Pools Way is followed to the letter.
You can read our full warranty information on our dedicated warranty page.
Which fiberglass pool manufacturer is best for you?
The best fiberglass pool for you is simply the one that best fits your vision for a perfect backyard oasis, which can be installed by a contractor of the highest quality.
Both parts of the pool-buying process are critical to helping you reach that vision, and we encourage you to do as much research as you can, into both your prospective manufacturer and into the contractor who promises to install your fiberglass pool shell.
Everything here has been sourced directly from each manufacturer's publicly available websites and other records, with estimates used where precise numbers were not available. If you see any errors or inaccuracies, please reach out to us so we can correct them.
At River Pools, we manufacture world-class fiberglass pools for customers across North America. If you're shopping around for a fiberglass pool, feel free to take a look at our catalog of models, visit our extensive video library, try out our pool cost calculator, or request custom pricing using the button below.