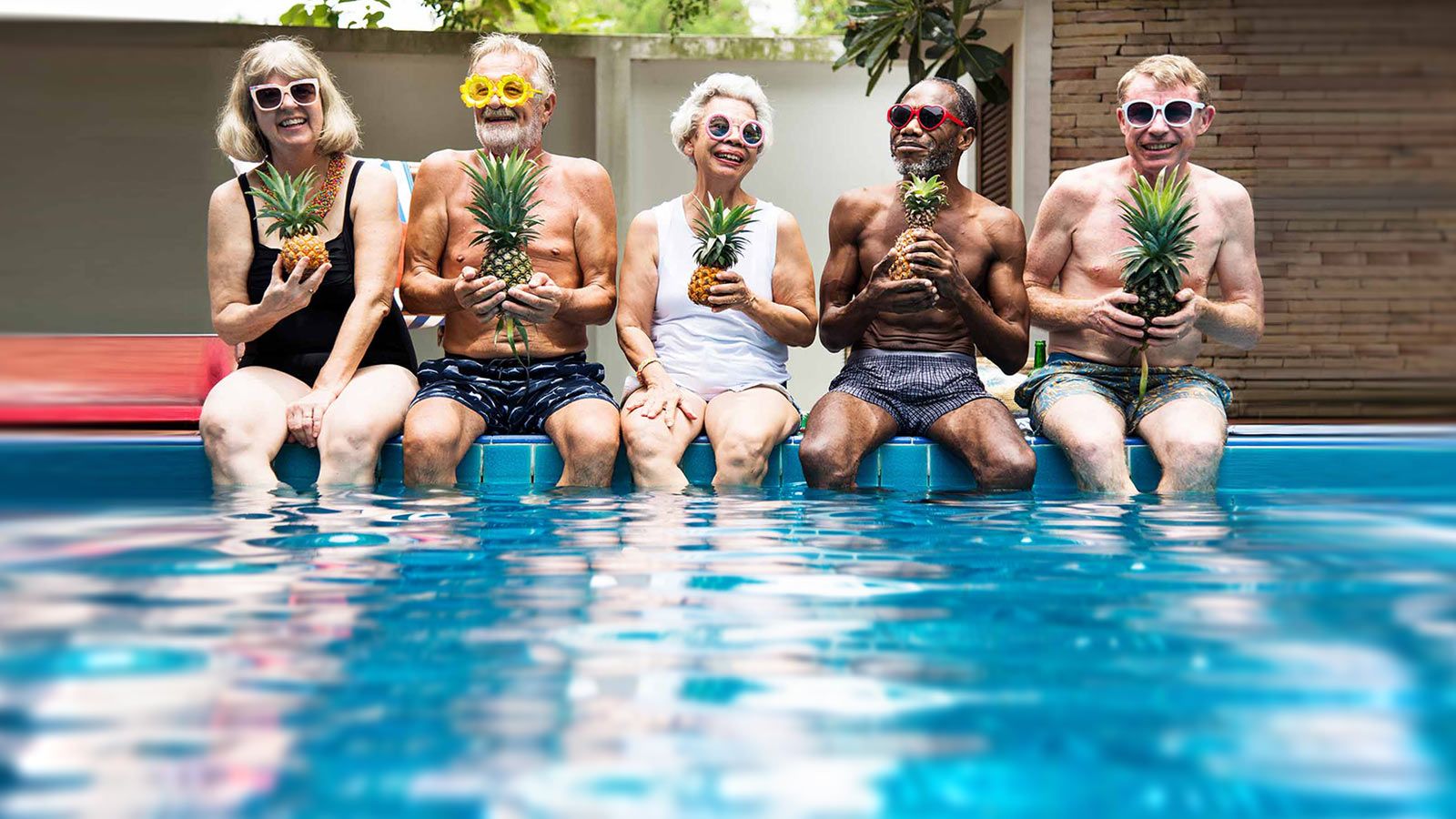 Subscribe
A Complete Review of Leisure Pools: Models, Shapes, Colors, Costs, and More
Fiberglass Pool Information | Pool Manufacturing Process | Fiberglass Pool Manufacturers | Swimming Pool FAQs
If you've been researching fiberglass pools for your backyard, you've probably found this article because you're already past the initial stages of your investigation, and you're starting to look into specific options. Based on your searches – which is probably how you found this article --you might have already narrowed things down to one of the nation's leading fiberglass pool manufacturers.
At River Pools, we manufacture and install fiberglass pools, and we're often asked about our competitors. Leisure Pools is one such competitor we've encountered rather frequently, because both of our companies were founded at roughly the same time, and installers for both Leisure Pools and River Pools cover much of the same territory across the United States.
Pool buyers want to know what we think about our competition -- and they want to know we can present our views on Leisure Pools (and other manufacturers) in an honest, unbiased, and transparent way.
We started our blog over a decade ago because we view ourselves as educators first, and we believe the best buyer is an informed buyer. Informed buyers like you should see as complete a picture of the fiberglass pool industry as possible. We believe you deserve to see the complete picture for every major fiberglass pool manufacturer, including Leisure Pools.
We've put together this article to share all the publicly-available information we could find from Leisure Pools, in one easy-to-read resource you can read at your leisure (pun only somewhat intended). You can find this same information on Leisure Pools' own website, presented in a nearly identical way.
We'll cover Leisure Pools' history, its current model lineup, its options and accessories, how it manufactures and installs fiberglass pools, and the support you can expect to receive from the company after your fiberglass pool installation project is complete.
We want you to have all the information you need to move forward with confidence on your pool-buying journey, whether you choose a Leisure Pools fiberglass pool, a River Pools fiberglass pool, or any other type of pool – even if it's a concrete or vinyl liner pool.
Let's get right to it...
Leisure Pools models and designs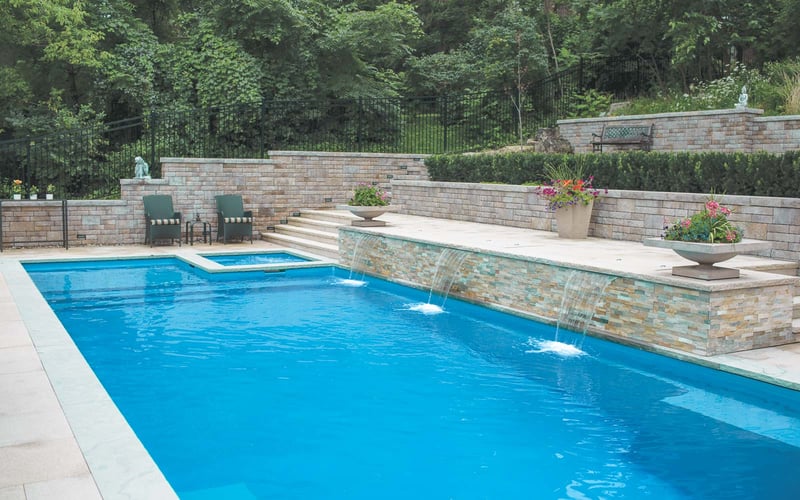 Smallest standalone FG pool model: 6' x 10' (Fiji Plunge)
Largest standalone FG pool model: 16' x 40' (various)
Total number of FG pool models: 66
Leisure Pools' model lineup is similar to that of another major U.S.-based fiberglass pool manufacturer, San Juan Pools, which we recently reviewed under the same conditions on our blog -- click here to read our San Juan Pools review.
Like San Juan, Leisure Pools offers a large number of different fiberglass pool models in a wide range of sizes and styles. Leisure's smallest model, the Fiji Plunge, is specifically promoted as a plunge pool, and it bears all the hallmarks of such pools, with a small visible footprint concealing moderately deep (4.5 feet) water.
On the other end of the scale, Leisure Pools appears to focus on max-size fiberglass pools, which means many of its models are 40 feet long by 16 feet wide, or close to it. Of the 27 named full-size pool models presented on Leisure Pools' website, 11 are available in 40-foot-long (or nearly 40-foot-long, at least) sizes.
All together, Leisure Pools offers 66 options for pool buyers in a range of sizes across these 27 named pool models.
The Fiji Plunge is the only pool in Leisure Pools' lineup to clock in at less than 18 feet in length, and only two other models (the smallest versions of its Harmony and Palladium Plunge models) fit this category. Many Leisure Pools models start at 23 feet long and get bigger from there.
All together, Leisure Pools offers three pools between ten and 20 feet long, 13 pools between 20 and 25 feet long, 12 pool models between 25 and 30 feet long, 19 models between 30 and 35 feet long, and 19 models between 35 and 40 feet long.
Leisure Pools shapes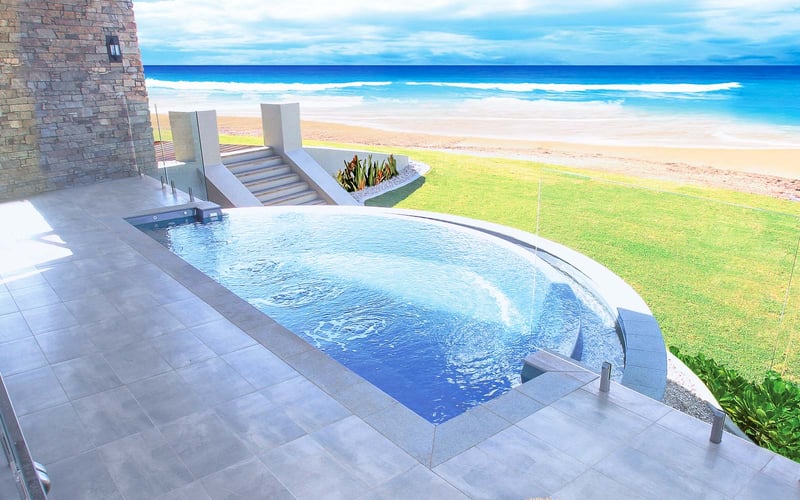 Small (under 30 feet) rectangular pools: 25
Large (30+ feet) rectangular pools: 27
Small (under 30 feet) freeform pools: 3
Large (30+ feet) freeform pools: 10
Pools with unique or unusual shapes: 1
Leisure Pools offers quite a few rectangular and freeform pool models. Where it differs from many other fiberglass pool manufacturers is its focus on rectangular models, some of which it calls "specialty rectangular" because of design features such as Roman ends or offset areas for steps.
Leisure Pools has a comparatively small selection of small freeform pool designs, as its six named freeform pools are primarily offered in sizes of 30 feet long or longer. The smallest Leisure Pools freeform model is its 23-foot-long Tuscany, which is also available as a 29-foot-long model.
Despite its focus on rectangular pools -- the better for automatic covers -- Leisure Pools does have one non-traditional pool shape, the Horizon, a 23-foot-long half-moon design that might easily serve as a supersized spa or spool when equipped with a decent number of pressure jets.
From all appearances, Leisure Pools' lineup is focused on achieving the broadest market appeal with the simplest functionality.
Leisure Pools colors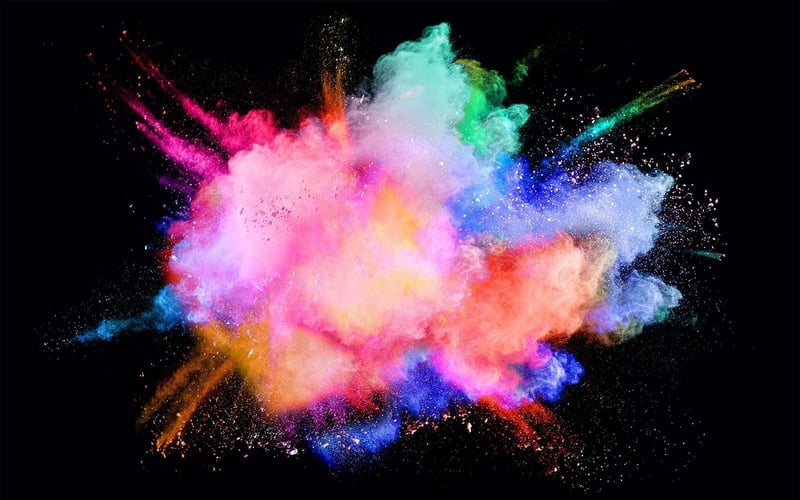 Leisure Pools fiberglass pools are manufactured in seven colors:
Sapphire Blue
Crystal Blue
Graphite Grey
Silver Grey
Ebony Blue
Diamond Sand
Aquamarine
Unlike most other manufacturers we've reviewed, Leisure Pools leans heavily on the proprietary qualities of its gelcoat colors, which it's trademarked as the AquaGuard Color System.
All fiberglass pools should be manufactured with gelcoats formulated to be UV, blister, and chemical resistant, but Leisure Pools promises these qualities on its website, so you should be fairly certain a Leisure Pools gelcoat will stand the test of time.
While none of Leisure Pools' colors is specifically promoted as being "white" or "black," the closest color options would be Diamond Sand and Ebony Blue. There's no true white gelcoat color in the Leisure Pools lineup, but its Ebony Blue option would fit the bill for anyone in search of a dark-bottom pool or black-bottomed pool.
Leisure Pools options and add-ons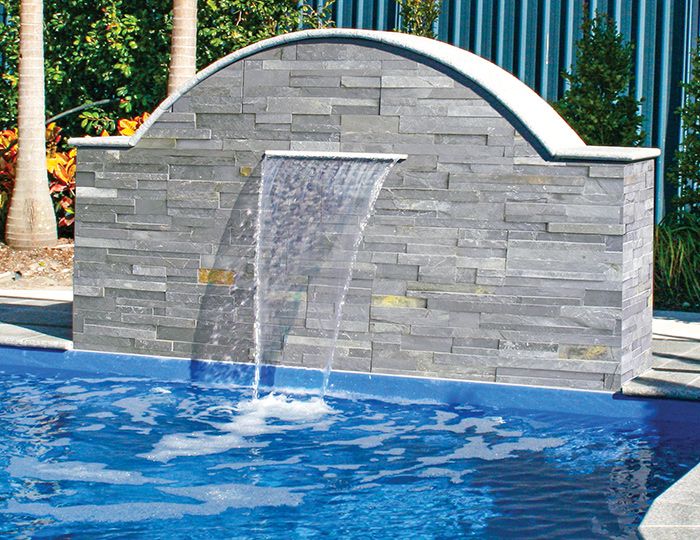 One area in which Leisure Pools stands out is its easily accessible range of options and add-ons. Not only does Leisure highlight its standard range of spas and tanning ledges, it also touts several waterfall features by name, as well as several options for pool pumps, salt chlorinators, LED lighting, and pool heaters, among other things.
It's rare to see specific accessory and add-on brands called out by name on a pool manufacturer's website, so Leisure Pools has done well on this front. Prospective pool buyers can do a great deal of research into every element of their pool project before committing to a contract with Leisure Pools.
You can also see your prospective options and accessories on River Pools' Design and Price tool, which can generate a quick estimate for your personalized pool project with just a few clicks. Start designing your perfect pool by clicking the button below:
Leisure Pools spas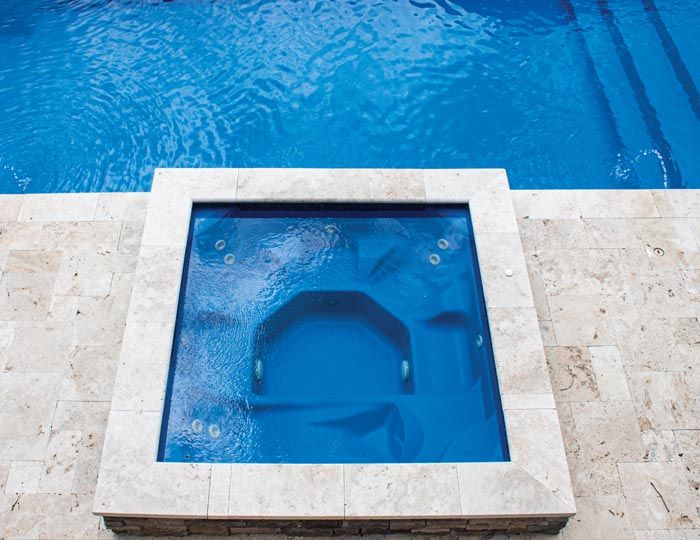 Leisure Pools offers three spas -- a round design called the Sorrento, and two square designs, one of which has interesting "bucket seat" shapes molded right into the walls to accommodate luxurious lounge-style seating.
These three spas are all fairly standard-sized for add-on spas, so they should be relatively easy to integrate into a larger pool installation project.
Leisure Pools tanning ledges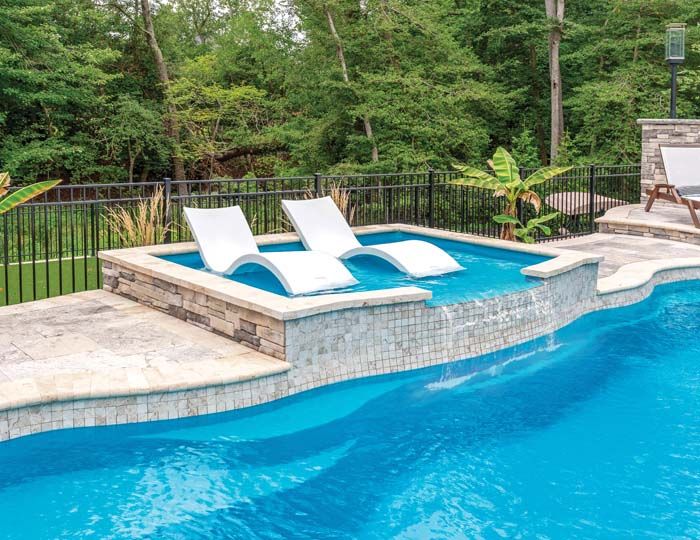 Leisure Pools has three tanning ledge options, each of which serves a specific purpose. It has a curved tanning ledge, a straight-edged standard tanning ledge, and an extra-wide tanning ledge. If kicking back in the shallows is a priority, Leisure Pools probably has an option to fit your pool project.
Leisure Pools installation process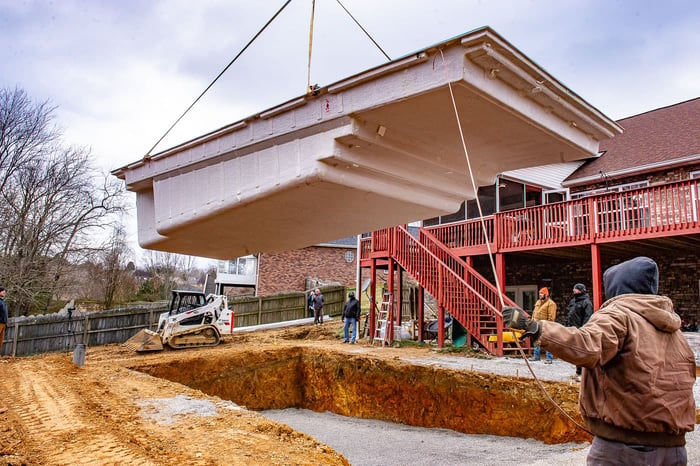 U.S. service range: 48+ U.S. states ("we deliver everywhere")
Total authorized U.S. installers: 500+
Leisure Pools has some of the broadest claims of any manufacturer, with a "global footprint" of over 500 dealers. We're unable to verify how many of these dealers are based in the United States, but Leisure Pools' website features a map with bright locations everywhere from the far northern reaches of Canada to a good portion of the West African coast.
Leisure Pools originated in Australia, and its site says "who knows, maybe spaceships are next" alongside a (probably copyrighted) image of the USS Enterprise-D from Star Trek: The Next Generation. If anyone on the Leisure Pools web design team had actually watched Star Trek: TNG, they'd know the Enterprise's crew can create a pool, or just about anything else they want, in one of the ship's holodecks. No need to install anything! Technology gets pretty wild in the 24th century.
The company does lay out a seven-step installation process on one of its blog posts, which you might have to dig around for a bit. Those steps, in the same order and using the same language of Leisure Pools' own post, are:
Laying out the pool (marking placement of the pool in your yard)

Excavation (excavators and backhoes remove the grass and dirt)

Setting the floor (a bed of gravel is laid to give the pool its base)

Pool delivery and placement (on a low trailer with your filtration equipment)

Plumbing and backfilling

Reinforcement and bond beam

Coping and deck installation
This process is fairly similar to our own process.
Leisure Pools warranties and support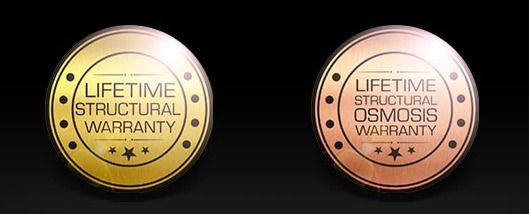 Leisure Pools backs its fiberglass pool shells with a lifetime structural warranty and a limited lifetime structural osmosis warranty.
The exact details of these warranties are not easily viewable on Leisure Pools' website. However, Leisure Pools does pledge to allow one-time warranty transferability within five years of your purchase. Keep in mind that a structural osmosis warranty is not the same thing as a surface warranty -- covering your fiberglass pool shell against osmosis may not include coverage against blisters, cracking, or other forms of surface damage.
We can't say whether or not Leisure's licensed installers also back their work with any sort of workmanship warranty. We recommend asking a Leisure Pools representative to provide you with the full text of its warranties, including any workmanship warranties offered by your local licensed installer.
Leisure Pools in review
Leisure Pools has grown quickly since its inception in Australia 21 years ago. The company may not have quite as much reach in the United States as Latham Pools or San Juan Pools, but it certainly has a wide-ranging presence, and its promise to deliver fiberglass pool shells by land, sea, or air sets it apart from many other manufacturers.
Leisure Pools also has one of the better manufacturer websites we've come across, which made it relatively easy for us to conduct our research for this article. If you're looking to vet Leisure Pools for your future pool project, its website should give you most (if not all) of the information you'll need to decide whether or not to move forward with a consultation and a possible contract.
Another area in which Leisure Pools stands out as a manufacturer is its laser-guided focus on the lifestyle benefits of pool ownership, which may sometimes obscure the true long-term cost of owning a pool. The company has published a post to answer the question, "How Much Does an Inground Fiberglass Pool Cost?" However, the answer is underneath quite a few words on "the price of happiness" -- which, according to Leisure's blog post, is likely to be in the $55,000 to $60,000 range for the typical fiberglass pool installation project.
This is a reasonable range for a fiberglass pool installation project in 2021 or 2022, based on our own experience with nearly 2,000 customers over the past 12 months -- assuming you want a basic installation with minimal add-ons or deck work. We consider this price range more of a starting point than a middle ground for today's fiberglass pool projects.
To get a precise quote, you'll most likely need to call Leisure Pools and speak to a local dealer or installer -- which is typically the case for most inground fiberglass pool projects, since there are so many variables to account for in any given place and with any particular project's requirements.
We always encourage prospective pool buyers to do plenty of research on their own, and since we consider ourselves educators as well as pool pros, we do plenty of research on our own, too. We're happy to provide this information to you, and we appreciate Leisure Pools' forthrightness with so much of its information as well.
Use your "face time" with Leisure Pools to vet the company and its installers thoroughly – the best-made fiberglass pool shell in the world can still fall short of your expectations if it's installed improperly..
Is Leisure Pools the best fiberglass pool manufacturer for you?
The best pool for you will always be the one that makes you happiest, which means you'll need to find a pool that best fits your budget and conforms to your expectations for quality and durability -- and an installer you can trust to put it in your backyard.
Leisure Pools may be your best choice, but the only way to know for sure would be to go through the research and pre-purchase process on your own to get everything you need to make an informed decision you'll be happy with over the long term.
At River Pools, we manufacture world-class fiberglass pools for customers across North America. If you're shopping around for a fiberglass pool, feel free to take a look at our catalog of models, visit our extensive video library, try out our pool cost calculator, or request custom pricing using the button below.