Fiberglass Pool Information | Fiberglass Pool Manufacturers | Pool Design Guides
The purchase of a swimming pool is a huge investment. Buying a pool is not like buying a car; it is more like adding on an addition to your home. Most people purchase their first car before they are 18 years old and they do so with the help of a family member. During your lifetime you will purchase many cars where on the other hand you will probably only purchase one pool. Also when purchasing a car you can get quite a bit of advice from quite a few people, because almost everyone you know has owned more than one car. The same is not true with a pool. Even when talking with someone who has had or has a pool does not guarantee good advice, because that person has probably only owned one pool, which means that their knowledge is limited to just that.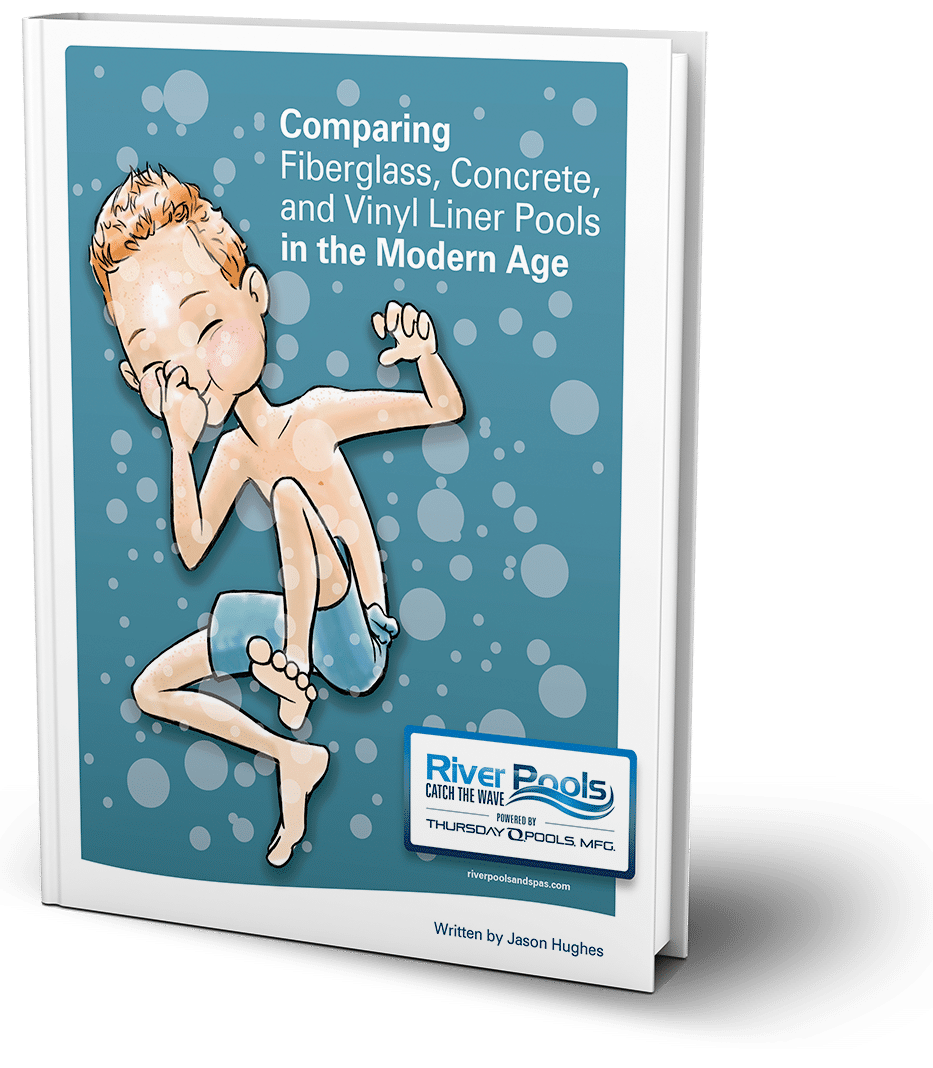 Comparing Fiberglass, Concrete, and Vinyl Liner Pools in the Modern Age
Don't blindly wonder if a fiberglass, concrete, or vinyl liner pool is right for you. Our educational ebook does a deep-dive comparison of the 3 types, all while noting the advantages and disadvantages of each.
Retaining Walls, Fence, and Landscaping
When does a pool need a retaining wall? One of the biggest challenges that I run into when I show up at someone's home to lay the pool off is the grade of their yard. I rarely walk into someone's back yard and discover that it is completely flat. Sometimes I find that with some extra gravel and some creative backfilling we can get by without the extra expense of walls. Sometimes walls can really add to the aesthetics of the pool when incorporated properly.
DIY Fiberglass Pools | Finding A Pool Contractor | Installation & Construction | Retaining Walls, Fence, and Landscaping
Lately it seems that a lot of homeowners I am meeting with have slopes in their backyards. Some of these slopes range in a grade difference of 1' to 6' from where the pool deck starts and finishes. What this means is that your fiberglass pool, when set in the ground, may be even with the ground on one end or side and 1 to 6 feet out of the ground on the other end or side. In such occasions, retaining walls are often the necessary solution, although moving the pool to another more flat location can at times work as well. I had one customer who could have moved their pool to an area in the backyard that would have alleviated any walls, but they wanted the added visual effect the walls would give them.
Fiberglass Pool Information | Pool Design Guides | Pool Maintenance
Should I invest in a boat or a swimming pool? Such a question I've heard over and over again from customers over these past 9 years of owning a swimming pool company in a part of the world (Virginia) where boats, in many ways, are a major part of the life and culture.
Fiberglass Pool Information | Pool Design Guides
Swimming Pool or RV , which should I buy...and how do I decide? Such is a question I've heard many, many times as a pool builder, especially considering we deal with customers throughout Virginia and Maryland, one of the more prominent boating spots in the country. So to help you with the potential debate, I'd like to submit my own thoughts from personal past experience.
Cost and Pricing | DIY Fiberglass Pools | Finding A Pool Contractor
Pool shoppers often ask me, "Can I put that pool in myself?" Answering this question can be a slippery slope, but the short answer is yes. But the real question is do you want to put the pool in yourself? There are several reasons that homeowners want to put in their own pools. For some it is the challenge and the reward with knowing that they have accomplished such a task. For others, it is the fact that they want to save money. And then there are those who are in the construction business or have friends that are in the construction business that can help with the process.
Finding A Pool Contractor | Pool Design Guides
Buying a Swimming Pool: Is it Always a Gamble? Pool roulette is an expression I heard my business partner Marcus Sheridan once use. And it makes sense—all homeowners play swimming pool roulette when they invest in a swimming pool. In life, we play roulette in a lot of situations that involve us putting our trust in the person/company we are doing business with. The question is: What are the odds of you, the customer, losing this 'gamble' and being unhappy with your decision?
Fiberglass vs Concrete vs Vinyl Liner | Options and Accessories
What kind of salt should I put in my pool? With salt water pools becoming so prevalent in the swimming pool industry today, a lot of questions arise—and not always a lot of answers. A lot of pool companies don't even know the answers to the questions, and very little has been written about this subject. Such confusion is understandable. Salt water pools grew rapidly within the industry, and there are so few case studies to understand this important science. This article will help you understand the different types of salt currently available for purchase and which of these is best for use in a swimming pool with a salt chlorine generator.
There are many factors to consider when purchasing a swimming pool. First- Is the type of pool you will purchase, will it be an above ground pool, or an in ground pool? Let's look at above ground pools first.