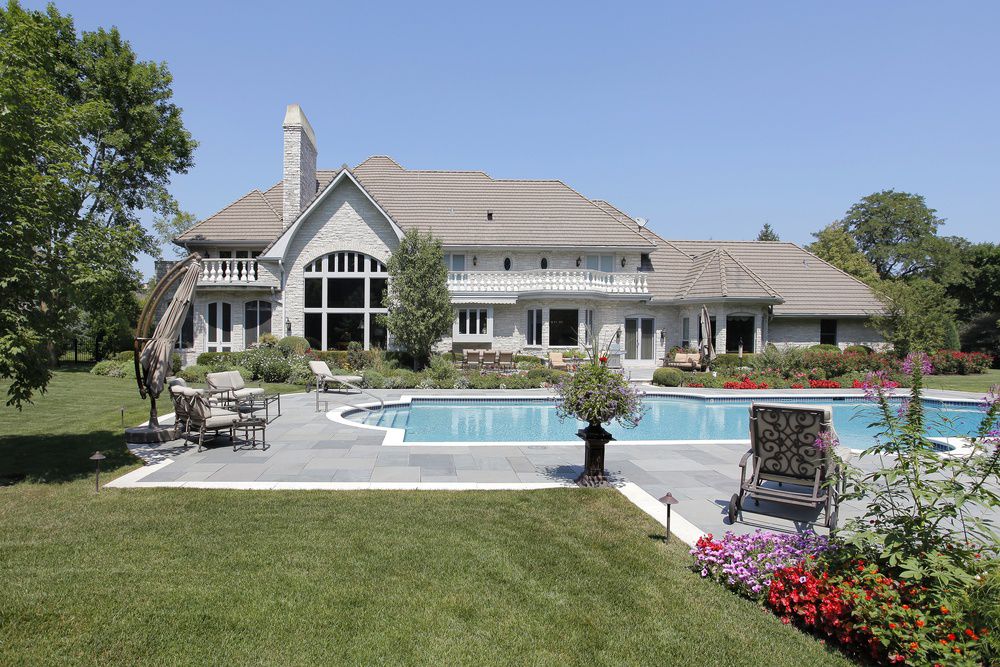 Subscribe
6 Things You Must Know Before You Buy an Inground Pool
Buying an inground pool is a major purchase. They cost tens of thousands of dollars and can affect both the aesthetic of your outdoor space and the value of your home. This is a purchase that you should never take lightly. There is a lot of research that you need to do before buying one and a lot of decisions that need to be made. If you leap in without doing your homework, you could overpay, purchase a pool that requires more maintenance than you prefer, or hire the wrong contractor for the job. Doing your research can help you make educated and informed decisions about the type of pool you buy and its features. All in all, this should help ensure the pool not only looks amazing outside your house, but has the features and functions that make sense for you and your family. Here are the six things that you should know before you purchase an inground pool.
Why Fiberglass?
When you are looking to install an inground pool, one of the first decisions you will have to make is what type of pool you want. This can include a fiberglass pool, a concrete pool, or a vinyl liner pool. Most experts recommend that you obtain a fiberglass pool unless you have special needs that fiberglass pools do not offer. For example, a concrete pool can be constructed as big as you want, whereas a fiberglass pool cannot be. And a vinyl liner pool has the cheapest initial cost, making it ideal for those who want a pool but don't have a lot of money to spend. However, a fiberglass pool works best for the majority of homeowners.
If you are still on the fence about a fiberglass pool, learning why a fiberglass pool is highly recommended may help you decide. There are many benefits to a fiberglass pool. The first benefit is that fiberglass pools are low maintenance. Both liners and concrete pools are susceptible to staining and algae. That is not the case with fiberglass, ensuring you can spend more time enjoying your pool and less time cleaning it. Another benefit is that fiberglass pools are smooth. You do not have to worry about scratching your feet up or a little one cutting their hand if they touch the edges or bottom of the pool. The last major benefit to fiberglass pools is that they are easy to install and can be installed year round. This is not the case with liner and concrete pools, which need optimal weather conditions to be installed.
---
Buying an inground pool? Our free guide has the answers to all of your questions about size, price, design, manufacturing, installation, and more.
---
Price
When you are looking to purchase an inground pool, price is something that you obviously need to consider. However, many people make the mistake of only researching one aspect of the price. When you are looking to purchase an inground pool, you need to consider both the initial purchase price of the pool as well as the lifetime cost of ownership associated with the pool. Here is some information about pricing you should know as you consider buying an inground pool.
The Costs Associated With Different Pool Types
As you decide which type of pool is ideal for you, you will want to compare the pricing of different pools. Here are three of the most popular types of pools and the costs associated with them.
On average, a fiberglass pool will cost the length of the pool times one thousand, plus two to six thousand dollars. So a 25-foot pool will cost around $30,000. Additionally, most people spend another $5,000 to $15,000 on pool accessories, electrical work, patio and landscaping and fencing around the pool. In addition to the initial install costs, you need to consider the cost of owning the pool. The cost of maintaining a fiberglass pool for about 10 years will cost you $3,750.
A concrete pool is by far the most expensive type of pool to construct. Depending on the size and shape of the pool, a concrete pool typically runs anywhere from $50,000 to $100,000. In addition to the initial cost being high, the cost of maintaining the pool is also high. A concrete pool will cost an average of $27,400 to maintain over a 10-year period.
The cheapest option for pools is vinyl liner pools. A vinyl liner pool can cost around $20,000 if you decide to do it yourself and may cost anywhere from $25,000 to $35,000 when you hire a professional to do it for you. While a vinyl liner pool has cheap initial costs, it can be costly to maintain. Over a 10-year period, this type of pool costs around $11,500 to maintain.
Hidden Costs for a Swimming Pool Project
In addition to the cost to install or build the pool and the cost to maintain the pool, there are some hidden costs for a swimming pool that you should be aware of. When you are having a pool built, you may need to shell out extra money for retaining walls, extra concrete, dirt hauling, landscaping, electrical work, and a fence around your pool. As you get quotes to have a pool built, ask if these items are included in the quote. If they are not, ask for quotes on these items, as they can increase the cost of your project by thousands of dollars.
Timeframe for Construction
When you are looking to construct a pool, you may be curious about the timeframe for construction. Learning how long it takes to build and install the pool you are considering having placed will help you determine which makes the most sense for you. The exact length of time it takes to install a pool varies based on many factors including the size of the pool, the number of contractors doing the work and their experience, and the weather elements when the pool is being installed. Here are a few of the rough estimates as to how long it will take to install each of these types of pools.
A fiberglass pool is the fastest type of pool to install. Depending on the company you use, this type of pool may only take two to four weeks to install. When you are looking to get a fiberglass pool installed, look for a company that offers fiberglass pools that are not only easy to install, but durable as well. At River Pools, we use Cross-Lynx Composite Technology because it is both easy to install and durable.
A concrete pool typically takes the longest to install. This is because the concrete has to be fully cured before construction can be completed. Concrete takes at least 28 days to cure, under perfect circumstances. It can take longer in less than ideal weather. As such, from start to finish, a concrete pool can take anywhere from three to six months to complete.
A vinyl liner is in the middle range for length of time to install. This type of pool takes anywhere from four to eight weeks to install, depending on the size of the pool, the weather elements, and whether you are doing it yourself or hiring professionals.
What's Involved in the Construction Process
When you are trying to determine how long it takes to install a pool, you may be curious as to what is involved in the construction process. Here are a few of the steps that are involved when building a pool in your backyard.
Before construction can begin, the right permits need to be pulled and obtained. The permits needed vary based on the type of pool you are having installed and the county, city, and state you reside in. However, a great company will know what permits to pull and get them.
Once the permits are pulled, the land must be prepared for the pool to be installed. This includes excavating your property and performing rough grading for the pool, patio, and planting areas. Once this step is done, you will see where your pool is going, and where your landscaping, patios, and other items are flattened to make way for them.
Once the land is flattened, the installation process can begin. Typically the framing and plumbing is installed first. Next any concrete that is needed for a concrete shell or the floor for a liner is poured. After that is poured, the pool masonry, tile and coping is done. Once all of that is dried and cured, the filtration equipment and pumps are brought in and poured. Many contractors then install your pool patio, plantings, fencing and lighting before plastering the pool, but these two items may be switched in order depending on the contractor and the weather. Once the pool plaster is in, the pool can be filled with water and the chemical balances are established. A final inspection is done before the process is complete and your pool is ready.
When fiberglass pools are installed, there can be problems that emerge due to shifting or settling. This can cause leaks in the plumbing lines, separation between the pool and patio or bulges in the walls of the pool. At River Pools, we use Rhino-Roc Construction to help eliminate these problems. Rhino-Roc Construction helps to solve the problems caused by settling in fiberglass pools, ensuring you have no issues with your newly installed pool.
Size, Shape and Design
When you are buying an inground pool, you have to pick the size and shape and design that make the most sense for you and how you can utilize the space in your yard. Here are some of the factors you will want to pay close attention to to help you determine what pool shape and size are ideal for you and your family.
Size
The size of the pool is important. It affects what activities can occur with the pool, and it affects the appearance of your outdoor space and what other elements you can incorporate into the space. As you try to determine what size of pool you want, the first thing you will want to do is determine what the pool will be used for. Will it be used for recreation, or will someone be swimming laps in the pool? A lap pool is longer than a recreational pool. Once you have determined that, you need to figure out what else you want in your outdoor space. Some people want a pool, spa, and outdoor patio. You then have to determine how much space you have to construct these items.
Remember, you can't put a pool directly on your property line, so you'd have to take into account setbacks along the property line. Finally, consider how many people will be using the pool both now and into the future. You may have five small kids now. But they may want friends over in their teenage years, and eventually, they may have families of their own. You may have five to ten swimmers now, but could easily have 20 in the future. You can't alter the size of a pool once it's built, so base the size of the pool on what you need now and in the future.
Shape and Design
The next factor you have to consider is the shape and design of the pool. Some people prefer pools with curves, while others prefer something linear. When determining the shape of the pool, you have to take into account the size and shape of your yard. Sometimes a curved or straight line works best in your yard. Next, consider what features you want in your pool. If you want a tanning ledge, infinity edge, open swim lane, or ample swim space, a straight pool may be better. If you want ample bench seating or an aesthetically pleasing pool, a curved pool may make sense for you.
Landscaping
The landscaping around your pool can transform a pool in a backyard to a complete outdoor oasis. However, many people often are so concerned with getting a pool in, that they neglect to think about the landscaping. The landscaping should be thought of at the same time as the pool design and building. This helps to ensure there is space in your yard for all of these features you want. When you are thinking about landscaping around your pool, here is some information you want to keep in mind.
The first thing you want to keep in mind is patio space and how much patio space you actually need. Not everyone uses a pool patio in the same manner or needs the same size patio. If you simply want space for a grill or a two-person seating set, you may only need a six foot by six foot patio space. If you want an outdoor kitchen and seating area, you may need at least a 12 by 12 foot area. And the patio area does not only include what we traditionally think of as patio space. It involves all of the concrete around the pool. You may need a concrete pad for a pool slide or diving board. Take all of this into account when designing the pool and the landscaping around the pool.
In addition to the patio space, you have to decide on plants and grass to complete the look in your yard. When you are trying to bring color into your yard, make use of potted plants or incorporate planters. This helps to break up all of the concrete that surrounds a pool, bringing in color, character and texture. In the area where you can plant plants, consider using large plants to increase the privacy around your pool. Large palm trees or tall hedges are great ideas for adding privacy around your space. If you have a pet or small kids who like to run around, you may also want to plant grass. Grass should be kept away from the pool, as the dirt, bugs and blades can all make their way into the pool, making it dirty. Unless you have a large space, grass should not be used inside of your pool fencing. Lastly, when you are thinking about your landscaping, consider outdoor lighting. Outdoor lighting can enhance the look of the pool and your outdoor space, while also making the area safer for those who happen to be walking around your yard.
Finding a Reputable Pool Contractor
The last thing that you must know before you buy an inground pool is how to find a reputable pool contractor. The pool contractor you select to buy your pool from and install it has a huge effect on the final outcome of your pool. A great contractor can help get the pool finished in a timely manner, ensure the pool meets your needs, and build or install a pool with fewer issues. A poor contractor may install a pool that does not meet your needs, comes in over budget, or has issues in the future. Learning what to look for in a reputable pool contractor will help you find the right one for you. Here are some of the things you need to know in order to find a reputable pool contractor.
What Does a Swimming Pool Contractor Do?
A swimming pool contractor designs, builds, installs, and repairs swimming pools. If any of the work is outsourced, such as concrete pouring, they hire the professionals to pour the concrete and oversee the entire process. Basically, a swimming pool contractor ensures your pool is exactly what you specify you want it to be.
What Questions Should You Ask a Contractor
There are many questions you should ask a pool contractor before you hire them. Some of the questions include:
What is your experience with building pools?
What is the experience of the people you hire within your company?
Do you have customer reviews?
What products do you use when building or installing pools and why?
Do you offer a workmanship warranty?
Will you work with me to design the pool that is best for me?
What are your installation practices?
What is the price to build or install the pool I want?
Can I read over a sample contract?
Can I talk to references of people who have used you in the past?
What You Need to Know About Getting References
When you are looking to hire a pool contractor, it is important to get references from them. These are people who have used the contractor to build their pools. Talking to references is a great way to learn firsthand how the contractor is to work with and what the quality of their work is. As you look to hire a contractor, ask them for references and then actually talk to those references. Here are a few of the questions you should ask when talking to their references:
Would you recommend this pool builder?
Would you use this pool builder again?
What did you enjoy about the experience?
What didn't you enjoy about the experience?
What type of pool, options, and accessories did you choose?
Would you do anything differently?
Was your project completed on time?
Was your project completed on budget?
Have you had any problems with the pool?
How did the pool contractor handle any challenges when they arose?
Were the builders courteous, and did they show up on time?
What's Not So Important When Hiring a Contractor?
As you look to hire a contractor, it is important to understand that some things are not so important. Some people try to avoid smaller companies because they think they cannot handle a lot of work. But this is not true. Great pool builders have companies of all sizes. Another factor that is not important is whether or not they sub-contract out any work. Some people view sub-contractors as a bad thing. But a great pool company will use the best of the best to get your pool done, even if it means admitting they need another professional to help them. Lastly, the appearance of their marketing materials is not so important. You want to hire a great pool contractor, not the contractor with the best brochures or flashiest business cards.
There are many decisions you need to make before you purchase an inground pool. While it may seem time consuming, taking the time to research will pay off in the long run when your pool is everything you dreamed it would be. When you are looking to buy a pool, spend time to do your research on whether you want a fiberglass pool or not, the price of pools, the timeframe for construction, the size, shape and design of the pool, landscaping around the pool, and how to find a reputable pool contractor. If you still need additional information, our ebook can help you learn what you need to know when buying an inground pool. This will help ensure you are prepared when the time comes for you to buy your inground pool.