Fiberglass Pool Information | Options and Accessories | Pool Design Guides | Pool Videos
When I first walked into the backyard of Chuck and Kristian Todd in Arlington, Virginia my first thought was, 'If this is going to happen, it'll have to be interesting.' In the end, it turned out to be quite interesting indeed, as you'll see in the following before and after video.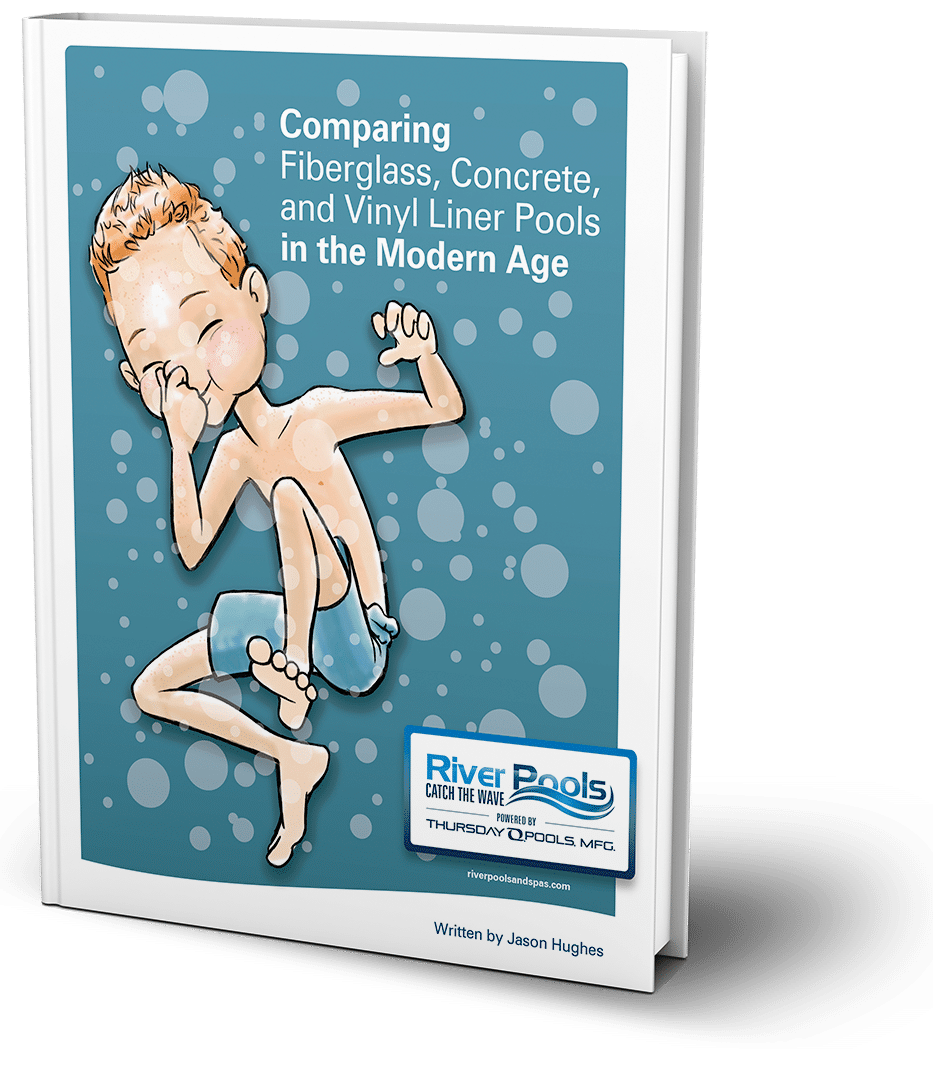 Comparing Fiberglass, Concrete, and Vinyl Liner Pools in the Modern Age
Don't blindly wonder if a fiberglass, concrete, or vinyl liner pool is right for you. Our educational ebook does a deep-dive comparison of the 3 types, all while noting the advantages and disadvantages of each.
Fiberglass Pool Information | Fiberglass vs Concrete vs Vinyl Liner
Although this photo might confuse you at first, it's showing a fiberglass display pool at our headquarters here in Warsaw Va. after some serious wind gusts that have been plaguing the state over the last couple of days. What normally is a pool shell on its side with the trailer as its base, mother nature decided to blow it over with some serious force behind it, causing the shell to slam to the ground. Even better though, the shell was unharmed. It's flexibility and tensile strength, as always, saved the day.
Fiberglass Pool Information | Fiberglass Pool Manufacturers | Pool Design Guides
In the past, we at River Pools and Spas have taken the time to recognize the different advances and developments in the fiberglass pool industry over the years, many of which have been the most read articles on this blog to date. So as 2013 is now here, we felt it time to discuss the best inground fiberglass swimming pool designs we're seeing in terms of functionality and creativity in 2013. Also, as a side note, this article is not about the quality of the included manufacturers, but rather our opinions on their designs. Here goes:
Cost and Pricing | Fiberglass Pool Information
We've talked extensively about the cost of fiberglass pools here on this blog over the years but as 2013 approaches, I wanted to take a look at where pricing is headed in this industry and what it means for consumers and pool builders as a whole. Pool Prices and Consumer Perception For years, the majority of swimming pool consumers, before the "research" phase of buying started, have generally felt that a swimming pool cost 20-30k installed. And although such projects are still feasible today within that budget, the reality is that inground pools, especially when one looks at the entire package (like decking, electrical, options, fencing, etc), are more in the 40-100k range—with multiple factors that will dictate the package price. Because the housing market took such a huge hit in 2008, the swimming pool industry was drastically affected by the events, and fiberglass pool manufacturers left and right were either bought for pennies on the dollar or simply went out of business. During this time period, most manufacturers have done their best to offset costs and keep price increases to a minimum, but at some point, the industry will have to turn back to normal margins that lead to financial stability and long-term success. If this doesn't occur, we'll only see more company mergers and empty factories.
Fiberglass Pool Information | Fiberglass vs Concrete vs Vinyl Liner
Well, you're in the market for a swimming pool…Congratulations! Yes, I know, you may be thinking a pool is going to be a lot of work. But these days, it clearly doesn't have to be, especially if you choose a few options that will make pool ownership much, much easier. In order to help you find the type of pool that will best suite your needs, here are some helpful tips:
Fiberglass Pool Information | Fiberglass vs Concrete vs Vinyl Liner
When it comes down to it, every type of inground swimming pool has its share of problems. Vinyl liner pools are very temporary, fiberglass pools have size/depth restrictions, and concrete pools have their drawbacks as well. In this article though, I'm going to point out some problems with concrete pools you may not have considered before, as these are things you should clearly know before moving forward with your inground pool purchase.
Cost and Pricing | Fiberglass Pool Information | Fiberglass vs Concrete vs Vinyl Liner
With the summer upon approaching rapidly, many folks out there are debating whether or not they should go with an underground pool (aka "inground") or one that sets on top the ground.
Fiberglass Pool Information | Fiberglass vs Concrete vs Vinyl Liner | Pool Design Guides
If you are considering the purchase of an inground pool, you're probably wondering what maintenance and repair costs you can expect to encounter as the years pass on. As you'll see, the answer to that question largely depends on the type of pool you choose: concrete, vinyl, or fiberglass.