Although diving pools make a small portion of the sales in the fiberglass pool industry, Leisure pools has just announced the production of its first model, which will measure 16'x40' and is named the 'Grand Riviera'.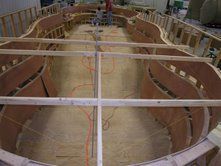 The following video is unique because it shows the earliest stages of the Grand Riviera in production where the wooden 'plug' for the pool is currently being constructed. As you will see from the video, the process of of building a new fiberglass pool is not an easy one, and can easily cost over $100,000 just to produce a quality mold.With the introduction of such a model, Leisure Pools will only continue its explosive growth pattern here in the United States and seperate itself further from many of the antiquated fiberglass pool manufacturers in the market today.
(To View the Video, Please Click Here)
Don't hesitate to enter your questions regarding the new Grand Elegance model or fiberglass diving pools in the comments section below.
Marcus Sheridan, http://www.poolschool.us/